BTi News & Press
2023 - September
Labor Day Already?? Are you Prepped for Elections 2024?
BTi is gearing up for one of our most exciting Election years yet! Contact us and find out why BTi is THE Leader in Data Services for Local TV Broadcast Election Results.
If you are not currently one of our Customer/Partners we look forward to any opportunity to work with you!
Thanks,
Fred McCoy, VP Sales.
Reach us at 615-591-1900 or This email address is being protected from spambots. You need JavaScript enabled to view it. today!
********************************************
2023 - March
BTi is honored to serve and support our Broadcast Customer/Partners everyday!
You will find us in all top 50 markets! Our extensive Broadcast Background serves you and your Teams with innovative solutions that value add to your Station's Success. Our efforts are due to your trust in our organic execution path with solid results backed by the best and most dedicated People in the Industry. We had our Best Year ever in 2022...and we look forward to working tirelessly to serve your every request.
If you are not currently one of our Customer/Partners we look forward to any opportunity to work with you!
Thanks,
Fred McCoy, VP Sales.
Reach us at 615-591-1900 or This email address is being protected from spambots. You need JavaScript enabled to view it. today!
********************************************
2022 - August
BTi Maintains Presence in Top Markets!
Bti continues to build relationships in markets across the nation. We currently participate in partnerships with stations in all Top 25 markets! In addition, Bti supports stations in all but 4of the Top 50 markets. We continue to seek new partnerships and are constantly updating and modernizing our offerings to help stations obtain and offer information necessary for informed viewers.
Contact us at 615-591-1900 or This email address is being protected from spambots. You need JavaScript enabled to view it. to discuss how BTi can benefit your production workflows.
********************************************
2022 - July
BTi Update:
BTi has invested in a new infrastructure package to include two new high-end development servers that will provide power and storage redundancy on each platform. Along with hardware, each system will mirror each other with replication between the platforms to provide fast recovery in the event of a server failure. With the new hardware, along with our off-site backup procedures, we have decreased our mean-time recovery numbers significantly.
In addition to the hardware improvements, we have partnered with Johnson Business Technology Solutions, a security first technology company, to provide technical assistance with the hardware along with advanced security software to protect our systems. We are always invested in our security posture in the ever-changing world of cybersecurity.
These improvements will also provide us with additional hardware resources to spin-up and develop our technology faster than before. At BTi, our investment into our environment is a significant part of our commitment to our customers. In the continuously evolving world of technology, it is our goal to provide systems and software that is relevant and secure.
BTi has also invested in our physical plant facilities with a natural gas auto-switch emergency power generator for long term power to back up the current underground electric utilities. We have also added additional short term battery backup systems.
Finally, BTi was one of the first to go green in our area! For 13 years now, BTi has lowered its net energy usage with an extensive solar panel array mounted on our roof. We have continuously upgraded the HVAC facilities to provide the most efficient use of the power grid. Along with our office water treatment technologies, BTi remains committed to conservation and our planet.
Contact us at 615-591-1900 or This email address is being protected from spambots. You need JavaScript enabled to view it.
BTi, A Visionary in Broadcasting Software since 1994.
********************************************
2022 - January
BTi is already having its best year yet!
Thank You to all our existing and new Customer-Partners! You are all Stakeholders: Customers, Employees, and our Communities, both Locally and Nationally.
Our value proposition: We strive to be an innovative, trusted service for all our Customers.
We've invested in the networking and support infrastructure necessary to maintain 24/7 highly secure connectivity to our offices while also limiting BTi's environmental impact. We continue to invest in our staff and product design in order to offer modern software solutions and comprehensive support.
We appreciate your continued support and partnership in informing viewerships across the nation.
********************************************
2021 - June
BTi continues to help viewers stay informed during fluctuating times
BTi, like many of you, is manuevering strategically while working in-office and remotely, but we are here for you any time! BTi is a Broadcast Service Company and we are here to meet your needs through 24/7 support. Please contact us today to discuss how we can help support your station in surpassing the expectations of your viewership!
********************************************
2020 - July
This year is bringing unprecedented adjustments to the broadcast industry just as it's doing to the rest of the world. We're sorry we weren't able to see everyone at NAB but BTi continues online Installation, Training, and Support for existing partners and new ones every day! We're committed to continue providing the same level of support our partners expect from BTi. Contact BTi...WE'RE OPEN...and moving forward with Elections, School Openings/Closings, Severe Weather Alerts, and Headline News Tickers.
********************************************
2019 - March
BTi is celebrating another good year at NAB. Sales continue to expand the reach of the company as stations prepare for the 2020 elections.
********************************************
2018 - March
BTi Prepares for Roll Out of Schedule Assets and Viewer News at NAB
On April 9th, delegations from TV stations will get the first look at Schedule Assets and Viewer News when they visit BTi's booth at NAB.
In an environment where stations are constantly competing for advertising dollars, Schedule Assets has been developed to meet the needs of stations who want to monetize their tickers or other screens with the ability to schedule Sponsors and Snipes. Advertisers will see their sponsor graphic as it runs automatically in the ticker or independently by time of day or with the news content they sponsor. As run logs help stations show advertisers see that they're getting their money's worth.
Stations are also always competing for market share and searching for ways to pull in more viewers. Viewer News builds viewer loyalty by allowing viewers to submit photos with comments which can be screened by the station and sent to air.
********************************************
2017 - March
NAB Convention
Another successful showing at NAB where BTi revealed Facebook Live through ENGAGE and Schedule Assets where stations can monetize their tickers.
********************************************
2016 - March
NAB Convention -- LOOK WHAT'S NEW from BTi!! at Booth N4913
New, Engage, A Revolutionary New Display Device, fully integrated with BTI Graphics.. "Do things that no other CG can do !" , "A Must See"
New, Elections, Elections, Elections, with Mobile Elections, News, Sports, Weather, TTS, Software...on Virtual Servers !
2016....BTIadds many New Stations and New Data Services in 2014 and 2015 and now, even more in 2016, for this years Elections! C-SPAN, many more at CBS O&O's, All of Graham Group, and Berkshire, many more of the Tribune, Meredith, Tegna/Belo, Media General, Lin, Young, Hubbard, Dispatch, ABC O&O's, Morgan, Lilly, Schurz, All of WV Media, and more...We are in all major Groups and Markets in the USA. Cox, Scripps, Sinclair, Gray, Nexstar, many others.....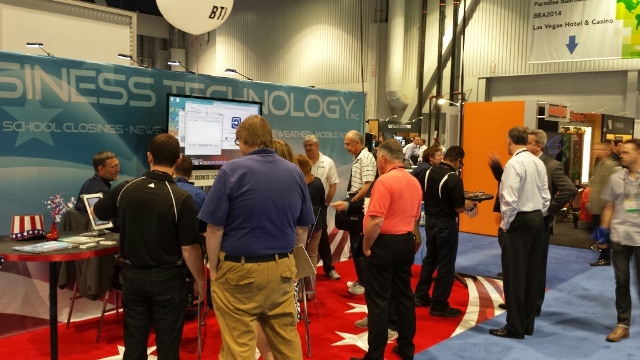 2015 - NAB Convention -- LOOK WHAT'S NEW from BTi !!
NewTTS Text to Speech under $4,000.00
NewEngage CG (Mac Mini), under $20,000.00
NewMobile Election, News Sports Weather Software
NewVisual Oriented Tool Software for Engage, Weather, Closings, Breaking, Automated Data Tickers

Thanks to all who came to see us at NAB 2015!



********************************************



2014 - NAB Convention-- LOOK WHAT'S NEW from BTi!! Our Biggest year Ever !

Google Glass Reporterunveiled by BTiand Interapt- April 7, 2014

BTibrings NEW Economical Election MAC MAP Appsto NAB

BTiand Interaptshowcase News Desk Trackerat NAB 2014

BTiDemonstrated a new TTS(Text To Speech) Solution - All Stations will be required to have TTS soon !

BTiand Interaptshowcase Candidate News Trackerat NAB 2014


2014 - Btishowcases new mobile apps at NAB 2014 -- SEAL, EMU, LYNX, VOTE... and much more

2014 - Bti is in 11 of the top 12 broadcast markets; 17 of the top 20 groups; and many more in the top 200



********************************************



2013The best year ever for BTi, thanks to all our new Customers and Partners.

2013NAB, BELO, Standardizes on BTi

2013BTi is selected as the Elections Leader

2013BTi and Interapt form a strategic partnership to develop and deploy several Mobile apps

2013Tribune / LocalTV LLC and more stations using BTi services



**************************************


2012Young Broadcasting's WKRN Nashville has concluded an exploratory agreement with mobile data services innovator BTi.

2012NAB... BTi Introduces Babble.

BTihas Apps and Widgets, allowing you to send to SMS and Smart Mobile Devices such as iPads, Tablets, Windows, Smart Phones...


Second Screen TV, Babble
Location Based News
Live Reporter Entry of Election results via a mobile device such as an iPad
Breaking News, to Mobile devices
School Closings, to Mobile devices
Severe Weather, to Mobile devices
Live to air Polling
SMS Breaking News messages live to air
Live Twitter and Facebook feeds to air with new Windows 8 dashboards



2012Election Apps were added to many USA TV Station Groups such as Tribune, Cox, Belo and Nexstar, including WGN, KHOU, KCPQ, WUTR, WHAS, WTOV, and many more...

2012NAB... Demonstrated live-on-air Texting, Twitter, Facebook, Apps... Interactive Social TV as extensions of our core products.